Theories that support Web Icon development
Theories are the foundation for technology advances and are useful for understanding the nature of technological innovation.
Theories reviewed in this section include: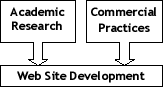 Communication theories generally focus on the processes of message-making, reviewed in this section is the Mathematical Theory of Communications.
Semiotics offers an understanding of the meaning attributed to signs and symbols, with the signification being supreme and the study of communication second.
Art & Design offers an explanation of how the dot and the line can be used to effectively communicate a meaning.
Human Computer Interaction (HCI) offers the idea of usability engineering and user centered design.
---
Developed by:


Page last modified on Saturday, August 19, 2000.